Venues & Locations
The Comber Hall, Coral Gables

Designated a Historical Landmark of Coral Gables dating back to 1927 The Comber Hall welcomes guests to an island oasis of excellence. Nested in the heart of Coral Gables The Comber Hall sits right next door to St. Theresa Church of the Little Flower and the luxurious Biltmore Hotel. This venue offers two grand ballrooms on separate floors. A grand foyer which invites your guests to an unforgettable event and an elegant wooden staircase with wrought iron elements makes this the perfect entrance to your special day. The Comber Halls stunning architecture, high vaulted hand decorated painted ceilings, beautiful hardwood floors and natural wooden french doors that open to large long balconies makes this location the ideal venue for your upcoming event. Ample parking, beautiful tree-lined roads and breathtaking landscape is just the start. Ground Ballroom capacity of 300 guests, Second Floor Ballroom capacity of 220 guests.
Please call us for more information on booking your event at The Breathtaking Comber Hall 305-443-4828.


---
The Cruz Building, Coconut Grove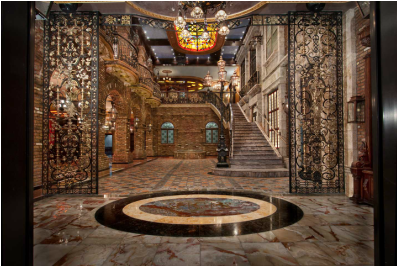 From grand weddings to unique social celebrations to luxury corporate events, The Cruz Building, Coconut Grove offers you the perfect storybook setting for your Miami event. The glamorous 3-level venue is adorned with soaring atrium ceilings, monumental stained-glass windows, majestic marble staircases for grand entrances,
European and French/New Orleans architectural antiques, romantic interior balconies and sweeping outdoor terraces—all romantically illuminated by interior gas flame lanterns and glistening antique crystal chandeliers.
Imagine the possibilities...
It's romantic, elegant...and vastly unique.
For more information or to book your event, please contact (305) 443-4828


---
Historic Douglas Entrance Coral Gables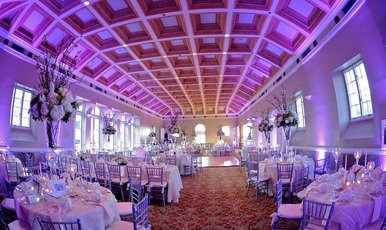 Built in 1927, Douglas Entrance's historic La Puerta Del Sol building is listed on the National Register of Historic Places. Accommodating private functions ranging from 25 to 500 guests, Douglas Entrance's event space includes: Opulent entry lobby featuring a grand staircase, Luxurious, recently-renovated ballroom, Smaller "arch room" reception area, Private balcony overlooking the courtyard plaza that features lush tropical landscaping and a majestic water fountain (a replica of one located in Barcelona, Fully air-conditioned and ADA accessible, La Puerta Del Sol is available for corporate meetings and parties, networking events, and private functions such as weddings, receptions, and more.
For more information or to book your event, please contact our event coordinators (305) 443-4828 |
Info@afancyfiesta.com
---
Vizcaya Museum & Gardens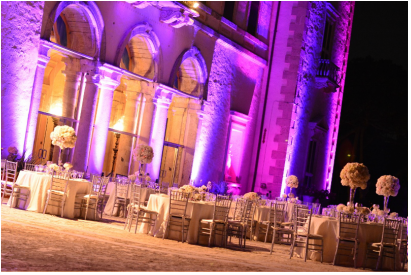 Built in the 1910s, a decade in which Gilded Age cultural standards were enlivened by the irreverent spirit of the dawning Jazz Age. This amazing mansion was created during a time when Americas wealthiest industrialists created lavish homes inspired by the palaces of Europe.
For more information or to book your event, please contact our event coordinators (305) 443-4828 | Info@afancyfiesta.com

---
Ancient Spanish Monastery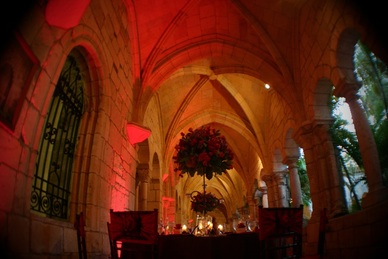 Brought in pieces from Spain, this European masterpiece is more than 800 years old. Majestic, stone covered walls and ornate cathedral style ceilings form the cloister area. The beautiful corridors surround the center courtyard.
Receptions may be held in the Cloisters (which are the covered passageways that surround an open courtyard), the Loggia or the Gardens.

For more information or to book your event, please contact our event coordinators (305) 443-4828 | Info@afancyfiesta.com
---
Deering Estate at Cutler Bay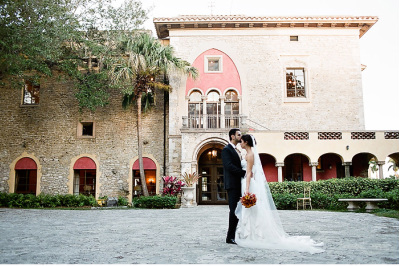 Located on the edge of Biscayne Bay, a long, lush walkway greets your guests as they make their walk into the breathtaking large, manicured lawn. From the moment you enter the historical wooden gates and stroll down the lush covered path, you enter a world of elegance and tranquility. With the view of the Historic Houses - the Grand Stone House and picturesque Richmond Cottage - along with the beautiful manicured lawn, lined with royal palms and overlooking the quiet waters of Biscayne Bay, The Deering Estate at Cutler is the ideal location to host any event in Miami. The Estate has become one of the premier rental facilities for an array of social and special events including corporate events, holiday parties, weddings and celebrations. This is the perfect backdrop for your ceremony, cocktail party or your reception event.
For more information or to book your event, please contact our event coordinators (305) 443-4828 | Info@afancyfiesta.com
---
Thallata Estates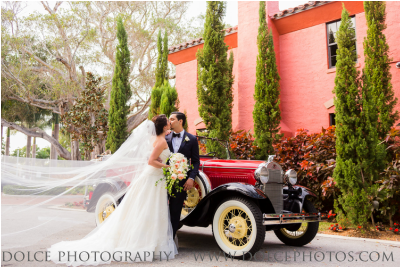 Where old world charm and elegance come together... Dreams begin at Thalatta Estate. Thalatta Estate is a beautiful two-story vintage residence designed and built by the Connett family, one of the few homes to grace the shores of Biscayne Bay since the early 19th century. This sprawling property of more than four acres offers unobstructed views of Biscayne National Park, a haven of herons, pelicans, marine iguanas and other plant and wildlife common to the protected mangroves of the South Miami-Dade coastline.
For more information or to book your event, please contact our event coordinators (305) 443-4828 | Info@afancyfiesta.com
---
More Featured Venues
Bonnet House
Chicago-born artist Frederic Clay Bartlett created Bonnet House in 1920 on South Florida oceanfront land given to him and his second wife, Helen Louise Birch, by her father, Hugh Taylor Birch, a prominent Chicago attorney, real estate investor, and naturalist. For more than seventy years, Bartlett's and Birches then resided on and sustained and enhanced these 35 acres, their buildings, and decorative contents. Today, the estate is a preeminent house museum dedicated not only to historic and environmental preservation, but also to learning and creative expression.
The Moore Building
Located in the heart of Miami's famed design District. This historic venue was built in 1921 as the furniture showroom space for Moore and Sons. The truly unique building boasts four floors of arcaded spaces totaling more than 20,000 square feet. The soaring central atrium accommodates 4,400 people for receptions and 1,100 for seated events...
Palmetto Bay Venue
Dazzling range of indoor and outdoor options for groups of 50 to more than 3,000. Here you have a choice of the Lakeside Terrace, Atrium Lobby, Colonnade, Mezzanine and the versatile Palm Room or any combination, moving from one to another depending on your event design.
Coral Gables Woman's Club
The Historic Coral Gables Woman's Club was constructed in 1935. Venue ballroom options:
The Flamingo Ballroom was built in 1935 and has the maximum capacity of 240 guests. Recently updated with new dance floor, carpeting and draperies. Limousine entrance as well as a romantic and cozy atmosphere. Beautiful chandeliers illuminate the ballroom. High ceilings. Kitchen and bar area. The Coral Room: This elegant ballroom was also built in 1935, and is recently restored with the maximum capacity of 200 guests. Amenities include dance floor, kitchen and bar area. Antique looking exquisite decor with rustic chandeliers, high ceiling, limestone walls and fireplaces add a renaissance touch to this unique and comfortable setting.
Miami Beach Shane Center
The Ronald W. Shane Center is located on Miami Beach at 6500 Indian Creek Drive. It is a beautiful, state of the art facility with over 4000 square feet of rentable space overlooking the scenic Indian Creek Waterway. This is a unique and convenient site for social events, business meetings, conferences, seminars and other functions.
Miami Seaquarium
Our newly renovated Sunset Cove opened in December of 2008. This beautiful waterfront garden has two cocktail areas, a raised stage that is perfect for day or sunset events, and a large reception area that has the most incredible view of the Miami Skyline from Coconut Grove to Downtown Miami. The reception area at the Point can accommodate a 40' by 80' tent. The Point area also offers a private catering entrance.
Pinecrest Gardens
It has taken more than half-century to evolve into the lush oasis of towering banyans, natural streams, and panoramic landscapes that can inspire awe among its visitors. And now, one of South Florida's most historic places is available for the fairytale wedding of your dreams. If the lure of an intimate, romantic garden wedding sounds good to you...then this extraordinary venue is the perfect setting. Built in 1935, historic Pinecrest Gardens features over one thousand varieties of rare tropical and exotic plants and palm trees in a native tropical hardwood and cypress hammock setting.
The Alfred I. DuPont Building
Miami's only Art Deco Skyscraper and representation of Depression Moderne Architecture – Bas Relief Elevator, Wall to Wall marble floors, hand painted cypress wood ceiling detailed scroll work and intricately detailed gates and grates have earned it a spot on numerous "Miami's Best List"
Miami Beach Botanical Gardens
In 1962 the City of Miami Beach created the "Garden Center" on a vacant site opposite the Miami Beach Convention Center that was built in 1957. Operated then as a City park, the Garden was situated on the historic Collins Canal, an integral part of the beginnings of Miami Beach. A dynamic 2.6-acre urban green space in the heart of South Beach. The Garden was rejuvenated in the fall of 2011 with a $1.2 Million landscape renovation by acclaimed South Florida landscape architect Raymond Jungles.
Fairchild Tropical Botanic Garden
This is a truly a unique place. Here you can walk garden paths surrounded by the wonders and beauty of nature, talk to experts in horticulture, conservation and science, view impressive art, see butterflies and birds at every turn and take classes on everything from photography to grafting.
Venetian Pool
This is a mystic and tranquil setting for any event. The pool was formed in 1923 from a coral rock quarry and today is included in the National Register of Historic Places. A 820,000 gallon pool is fed daily with cool spring water. It showcases two waterfalls beautiful coral caves and grotto. Designed by Denman Fink, uncle of the founding father of Coral Gables, George Merrickhe, the buildings were crafted in Venetian-style architecture, Working with architect Phineas Paist, they transformed a rock pit into the world's most beautiful swimming pool. In addition to this impressive pool they completed this location with large loggias, porticos, an island fringed with palm trees, a beach and even a cobble-stone bridge.
For more information or to book your event, please contact our event coordinators (305) 443-4828 |
Info@afancyfiesta.com